Blogging from A to Z: A B and C
 I am a late-comer to this challenge, but I am still going to have fun with it. 
A is for Author
I am going to brag on my Mother for a moment. She is an author, and quite an amazing one!
She has previously published poetry and sold paintings, but this is her first novel. She has been working on it for years, and is finally ready to set it free into the world. I have to say that even though her book isn't the typical novel I read, I cannot stop reading it. I literally have to peel myself away from it to get anything done. It'll Keep by April Mobley is truly an amazing book! Also, I had the honor of designing the logo for her publishing house. I have to say that I am quite proud of it.
It'll Keep will be released soon. I have a surprise though; you can read the first chapter on her blog!
B is for Bowl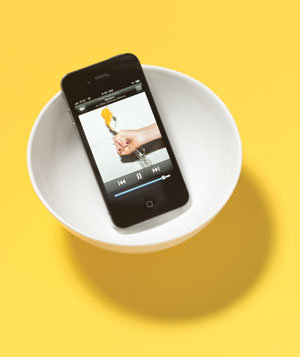 The people at RealSimple are pure geniuses! Who would have thought that this would actually work.
The shape of the bowl amplifies the sound, working like a pair of speakers.
C is for Change
I am in the process of changing the way I do things to a more organized system.
I will be organizing my mobile office and sharing tips for keeping organized in tight spaces and on the go.
Staying organized on the go is so important for us, even if we work from home.
I will be putting my own office into a Thirty-One All-In-One Organizer!
(I no longer need is as a diaper bag- its not girly, but it will work!)
I will also be bringing reviews to you on products and services; as well as tips on KEEPING it all organized.
I was always the most organized person I knew, so getting back to this will be great.
In fact, if I was stressed, I would empty my closet and reorganize it.
I will share one simple tip with you tonight.
Although it is simple, it is a biggie!
Always, always, always have a drop-cord of some kind.
I made the mistake once of not having one, and it was a HUGE mistake. I was working promotions for a motorcycle rally coordinator. I made t-shirts, set up photo shoots, chose models, did tech support, and worked with my dad's business all at the same time.
To do these things, I had several pieces of equipment. A computer, printer, shirt press, and camera. It all needed power. What did I forget to pack before leaving on the 12 hour drive? A drop cord, of course. I lost a day of work, and had to go buy a heavy duty drop cord and surge protector. I have kept a regular drop cord in my computer bag ever since. I even bought a special heavy duty cord and surge protector for my gear box. I learned a hard lesson, but a lesson learned still.
Please take my advice, and make sure you always have a drop cord- you never know when you will need it.
Are there any services or products you would like me to review?
Is there any area or organization you would like me to explore?
Just comment below or head to my contact page. I am always happy to hear suggestions.