Category:
Traditional Marketing
As I have told you guys before, I think QR Codes are AMAZING!
Since I haven't written about these amazing little codes, I will share some of my favorite QR code art with you.
source: Incredible Things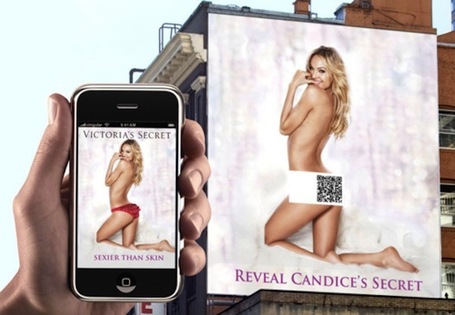 source: Victoria's Secret
source: mostcreativeresumes.com
Source: QR Code Hote, Dubai
source: Speckyboy.com
source: PrintIt.com
These are my favorite- I wonder if they taste good!
Here is a list of unique QR Code implementations:
Identify lost pets
Get information for houses on the market
Greeting Cards
Get nutritional information on food/ beverages
Download link for books and coupons
Political campaign information
To find out where produce is grown
Access tribute websites from headstones
As name tags
As luggage tags (genius!)
QR codes have also been seen on food, on designer clothing, and even as tattoos.
What is your favorite use of QR codes?
Have you or would you implement them into your business?
Dear GetGlue
I am a total Social Network Junkie. I'm not sure there is a decent sized network that I'm not a part of (unless it is specialized outside of my interests). I was so excited last Halloween when I signed up for GetGlue through the Ghost Hunters Halloween Special. I couldn't believe that was the first I was hearing about it. I quickly became obsessed with getting stickers.
It didn't take long for the love affair to cease and I started finding flaws with my newest obsession.
My first problem was that for me to get the "boot-camp" sticker, I had to have an iPhone. Its time for me to confess, I'm not the cool person you thought I am. I don't have an iPhone. I have a simple smart phone that isn't an iPhone, Blackberry, Windows Phone, or Droid. I simply have the Nokia Surge. Now, that has been fixed. Since I did not have an iPhone, I was rewarded the "boot-camp" sticker. I thank you for this.
Another flaw I have found in our relationship is that you forget to remind me to check-in. It really wouldn't be all that hard to do. Just have a commercial or have the shows on GetGlue put a sticker in the lower part of the screen, that would definitely work. So GetGlue, for the sake of our relationship, please start reminding me to check-in.
The flaw I have found that has soured our relationship the most is your interest in me. I thought you were very interested when I received the email asking my opinion on what would improve GetGlue. I responded, and have heard nothing back, or heard any news about my suggestion. Why are you no longer interested in me? You see, I have this idea that GetGlue could be utilized more than it is. Why just check in for Television, Movies, Books, and Music. There are so many forms of entertainment. Why not allow check-ins for commercials. That could be the greatest use of a social network and traditional marketing to date. Especially because GetGlue is linked to Facebook, Twitter, and Tumblr.  That is some serious marketing.
Also, what about getting reality shows to use GetGlue to vote. Contest shows could create different stickers for each contestant and allow fans to check in at the contestants sticker. I think that is a pretty creative way to vote.
The idea for broadening the scope of GetGlue that I wrote to you about would be to allow check-ins for websites and blogs. This, of course, is what I would like to see more than anything. After all, they too are forms of entertainment. Can you imagine the traffic you would get if blogs directed readers to your site to check in, especially if they could earn a sticker by doing this. I think this would be the best change to make in your network. I cannot even begin to describe the potential benefits that could come from this. People are already online when reading blogs and websites, why not send them your way. Bloggers can even design their own sticker- that's less work!
GetGlue, please get it together. If you are interested in rekindling our relationship, please email me at nighlon dot solutions at gmail dot com, I would be happy to elaborate on my ideas.
Sincerely,
An ex-lover, still friend!
Do you agree with my opinions about GetGlue? Please urge them to visit this post!
Is there a social network you would like to see NighLon on?
 (Disclosure: I was not asked to write this post or compensated in any way.)