Posts Tagged by
branding
As I have told you guys before, I think QR Codes are AMAZING!
Since I haven't written about these amazing little codes, I will share some of my favorite QR code art with you.
source: Incredible Things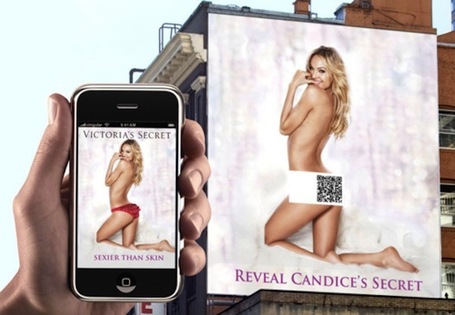 source: Victoria's Secret
source: mostcreativeresumes.com
Source: QR Code Hote, Dubai
source: Speckyboy.com
source: PrintIt.com
These are my favorite- I wonder if they taste good!
Here is a list of unique QR Code implementations:
Identify lost pets
Get information for houses on the market
Greeting Cards
Get nutritional information on food/ beverages
Download link for books and coupons
Political campaign information
To find out where produce is grown
Access tribute websites from headstones
As name tags
As luggage tags (genius!)
QR codes have also been seen on food, on designer clothing, and even as tattoos.
What is your favorite use of QR codes?
Have you or would you implement them into your business?
As many of you know, I participated in The SITS Girls 31 Days to Build a Better Blog challenge. I learned so much and was introduced to an amazing group of ladies that I now refer to as the Misfit Bloggers. These ladies are essential in the NighLon process.
Throughout the challenge, we were presented with various challenges to improve our blogs. They were all fabulous and really did help improve NighLon. However, there was one challenge that I struggled with, and continue to struggle with. The elevator pitch. I love writing them for other people, but when it comes down to the wire for me to write my own, I struggle. I don't know why, I guess its like bragging on yourself.
I have found the perfect tool to solve this problem. It is 15secondpitch.com and it is amazing!
I was browsing when I ran across this amazing tool. I was skeptical, but that was soon put to ease. This site walks you through each process to help you craft the perfect elevator pitch.
Who you are
What you do
Why you're the best
Your call to action
Preview
When you are in the preview screen, you can easily go back and tweak it, if need be. I have learned from using this tool that it is much simpler to get a basic layout for your elevator pitch, and then worry about adding personality. There are even tools to help with pitching!  The original via 15second pitch is above, but I have tweaked it slightly. Here is my final draft:
My name is Cari and I am the owner of NighLon. I am a marketing consultant specializing in branding and logo design. I pride myself in working closely with clients when designing and assisting with marketing, social media, and branding projects. I have a unique perspective that is based on personal experience, sociology, and past work experiences in promotions, sales, and customer service. Read NighLon.com to get an intimate look into the branding and marketing world. You will like what you see and want me by your side on your next endeavor. 
It didn't need a huge change, but I love it. I'm sure that it will still evolve and NighLon does.
I urge you to visit 15secondpitch and try it out. I think you will be impressed.
What are your tips for an elevator pitch?
What do you struggle with in your branding/ marketing endeavors?
What would you like to see on NighLon?
  The idea for this post came from my friend Pamela who is a virtual assistant. I was struggling with a D word and she said dominating. It was definitely a DUH! moment. 
When Most of us think of a particular industry there is a company that stands out above the rest. For instance, sports equipment, I think of Nike. High heels, I think of  Christian Louboutin. For cars, I think of Cadillac.
Cadillac has all the tools they need to dominate over all the other car companies. Their biggest accomplishment in my mind is that they set themselves apart from the competition.  They do this with ad campaigns, customer loyalty, and quality.
In fact, when I think of a dominating company in any industry, its always Cadillac. One reason is their obsession with quality. They don't skimp on luxury, either. My favorite commercial ever is even a Cadillac commercial. It actually made me want to buy one.  Its not very often that that actually happens.
[youtube]http://www.youtube.com/watch?v=sq6yuxxU2ro[/youtube]
I urge you all to dominate your field and be the Cadillac of your industry. Don't skimp on quality or luxury, which comes in many forms. Show off your talents, products, and services. Be the best. Improve with technology.
Become an expert in your niche. You don't have to be an expert in all types of cars, but know your luxury cars. Its simple. Stay focused and be true to your brand. Treat your brand as an extension of yourself. Nothing is too good for it, and it is the best. If you do not believe you are the best, then no one else will either. Put your knowledge out there, show the world you are an expert. Remember that your brand isn't a logo or a name, it is the message your company, blog, or you personally send out to the world. Make sure it is consistent and the first thing people think of when your industry is presented.
The most important thing your brand can pride itself in is customer relations.
Make sure you interact with customers, respond to their questions, and react to any concerns or complaints they may have.
Customer interaction is much easier now with new social networks, so take advantage of that.
Remember: it is easier to keep a customer than to get a new one.
How do you dominate in your field.